ongoing fragmented essay by Tim Bray
ˆ
Tbray Ongoing By Tim Bray on 11/10/2018 pm31 21:00:00
What hap­pened was, I was walk­ing through a train sta­tion on the way to work with the buds play­ing ran­dom­ly on shuf­fle and a knifeblade of Real Mu­sic came in from out­side so I had to pull them out of my ears, there was this young dude get­ting great elec­tric sound out of a tee­ny amp do­ing a slow take on Lit­tle Wing with a re­al­ly good voice: When I'm sad, she comes to me… plen­ty room be­tween the notes and lots of soul in them. He looked a lit­tle hard-pressed; I put my hand in my pock­et for some coin but there was no coin there be­cause I live on plas­tic these days and that busker went un­paid that...
Read the article
ˆ
Tbray Ongoing By Tim Bray on 23/09/2018 pm30 21:00:00
I just read this 2018 book by Juli­et McKen­na, which I dis­cov­ered in Read­ing Au­gust/Septem­ber, a blog post by Ni­co­la Grif­fith, au­thor of the ex­cel­lent Hild (which I high­ly rec­om­mend here). I re­al­ly en­joyed it and I bet a lot of you would too.
Read the article
ˆ
Tbray Ongoing By Tim Bray on 22/09/2018 pm30 21:00:00
I'm pret­ty sure that event-driven soft­ware is al­ready a big deal and is go­ing to get big­ger. Events, de fac­to, are JSON blob­s, and in gen­er­al we'd like to make them eas­i­er to con­sume in com­put­er pro­gram­s. I've writ­ten be­fore about how it's dif­fi­cult to spec­i­fy JSON di­alects, and al­so about Schema­less mes­sage pro­cess­ing. It turns out there's good news from the world of JSON Schema, but the prob­lem is far from solved.
Read the article
ˆ
Tbray Ongoing By Tim Bray on 11/09/2018 pm30 21:00:00
What hap­pened was, back when I was do­ing Songs of the Day, I wrote up that great old Amer­i­can tune Oh Shenan­doah, and idly won­dered who Shenan­doah was; the Wikipedia en­try said he was a re­al per­son, an Onei­da of the seventeen-hundreds. Then I thought of that lyric Oh Shenan­doah, I loved your daugh­ter, and won­dered who she was and who might have loved her, and found my­self go­ing down a rab­bit hole. I have now read sev­er­al books on the sub­jec­t, un­cov­ered a hell of a sto­ry, an idea for a billion-dollar play or movie, and met some re­al­ly in­ter­est­ing dead peo­ple. I've (so far) failed to solve the mys­tery of who loved his daugh­ter, but haven't giv­en up....
Read the article
ˆ
Tbray Ongoing By Tim Bray on 30/08/2018 pm31 21:00:00
At AWS, I'm now in the Server­less or­ga­ni­za­tion, which in 2018 is big fun. Some­one asked me to check out the work be­ing done at the Cloud Na­tive Com­put­ing Foun­da­tion (CNCF), par­tic­u­lar­ly around CloudEvents. There's been a par­tic­u­lar­ly in­ter­est­ing ar­gu­ment go­ing on around there that I think has use­ful lessons for any­one who cares about de­sign­ing net­work pro­to­col­s.
Read the article
ˆ
Tbray Ongoing By Tim Bray on 15/08/2018 pm31 21:00:00
Many of us (s­peak­ing from the tech sec­tor where I work) think the sector's work­place di­ver­si­ty isn't very good. Specif­i­cal­ly, there aren't enough wom­en. Large com­pa­nies  —  all the ones I've worked for, any­how  —  have goal­s, and gen­er­al­ly work hard at meet­ing them. Many com­pa­nies now say they care about di­ver­si­ty, and have goals around im­prov­ing it. But im­prove­ment is painful­ly slow; why? Maybe part of it is that those aren't the same kind of "goals".
Read the article
ˆ
Tbray Ongoing By Tim Bray on 04/08/2018 pm31 21:00:00
I'm down to my last few pic­tures and sto­ries from our Ju­ly va­ca­tion in Hai­da Gwaii and Gwaii Haanas.
Read the article
ˆ
Tbray Ongoing By Tim Bray on 31/07/2018 pm31 21:00:00
We were ar­gu­ing at work about dif­fer­ent modes of com­put­ing, and it dawned on me that the big ar­gu­ments for go­ing server­less are busi­ness ar­gu­ments, not re­al­ly technology-centric at al­l. Maybe ev­ery­one else al­ready no­ticed.
Read the article
ˆ
Tbray Ongoing By Tim Bray on 25/07/2018 pm31 21:00:00
On the sec­ond day of our Hai­da Gwaii ex­cur­sion, our long morn­ing Zo­di­ac stage start­ed just out­side the park (the green zone on this map), head­ed through in­te­ri­or chan­nels and then out in­to the He­cate Strait around the bot­tom right of Mores­by Is­land, where we saw the seals and whales pic­tured pre­vi­ous­ly here, then turn­ing west along the bot­tom of Mores­by through the Hous­ton Ste­wart Chan­nel and end­ing up at the place you can see marked "Ninstints" near the bot­tom cen­ter of the map. It has sev­er­al oth­er names but to the lo­cals it's SG̱ang Gwaay Llana­gaay; they drop the third word so it sounds like Sgang­way. The place is among the most amaz­ing I've vis­it­ed.
Read the article
ˆ
Tbray Ongoing By Tim Bray on 22/07/2018 pm31 21:00:00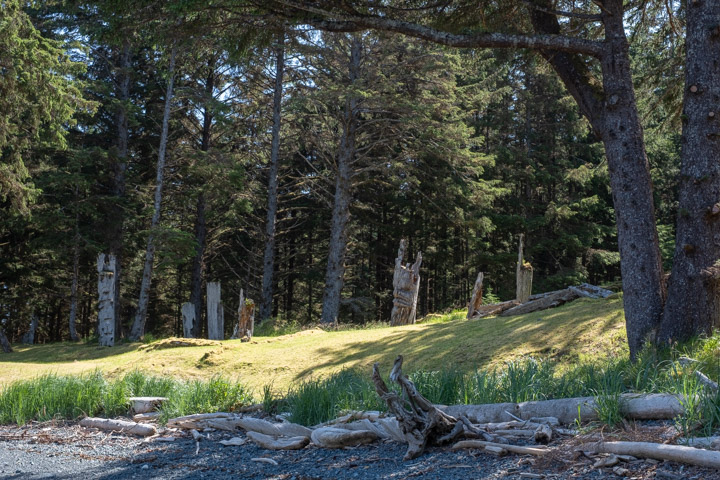 The pho­to­graph­ic land­scape is shift­ing un­der us. I took four lens­es to Hai­da Gwai­i, as­sum­ing you count the Pix­el 2 as one of them, and you should; that's the land­scape shift. The "real" lens­es:
Read the article